Bit Error Test & Arbitrary
Waveform Generation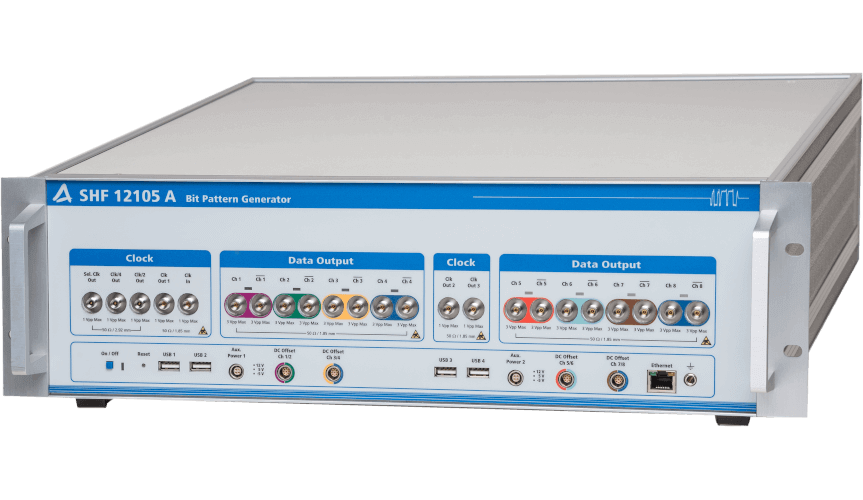 Choose a selection or scroll down to view all
NRZ and PAM Pattern Generators (BPG)
SHF's BPG instruments support a vast number of speeds, signal types and channel configurations. By extending the binary generators with our remote heads the data rate, the number of levels or both is increased.
The drop down menus below are supposed to help to find the best fitting instrument configuration for your application.
NRZ and PAM Error Analyzers (EA)
By combining the SHF 11104 A EA with a SHF C623 A DEMUX, the serial data rate is extended up to 120 Gbps per channel. The SHF 11220 A PAM-Sampler enhances the capability for true PAM4 BER measurements up to a speed of up to 58 GBaud PAM4 (112 Gbps).
The drop down menus below are supposed to help to find the best fitting instrument configuration for your application.
Arbitrary Waveform Generators (AWG)
SHF is offering a cost effective solution housed in a small and light weight chassis (the SHF 19120 C) and a solution based on our BPG-DAC combination. For PAM signals, it is faster than any other AWG instrument as it samples only one single time per each bit. Thus the baud rate of the resulting PAM signal is as fast as the sample rate of the system.
* Only one AWG channel accessible at a time. In addition there are four BPG outputs (1… 10.3 Gbps).
Mainframes (to host the Plug-In Modules above)
P/N
Type
To host up to
SHF 10001 C
Small Mainframe
Either four half-width plug-ins,
or one full-width plug-in and two half-width plug-ins
SHF 10000 D
Large Mainframe
Up to two full-width plug-ins (EA or BPG) and
up to four half-width plug-ins (e.g. optical Tx)
Support – BERT & AWG Instruments
blank
General Info
BERT for Ethernet, OC-768, CEI, InfiniBand and Fiber Channel
SHF's Bit Pattern Generators (BPG) or Pulse Pattern Generators (PPG), Error Analyzers (EA) and remote heads form a Bit Error Ratio Tester (BERT) suite, which supports a vast number of different applications including high speed Ethernet rates like 100GbE, 200GbE, 400GbE and 1TbE.
The instruments support up to 8 independent channels broadband from < 10 to 64 Gbps. By combining these instruments with our multiplexer (MUX) and demultiplexer (DEMUX) modules, the serial data rate is extended further up to 120 Gbps per channel.
A PAM source is formed by attaching one of our digital-to-analog-converter (DAC) remote heads to the BPG. This way, the fastest commercially available speed on a single serial coaxial interface (128 GBaud / 256 Gbps) is achieved using our PAM-MUX extender head.
SHF's capability for true PAM4 BER measurements up to a speed of up to 58 GBaud PAM4 (112 Gbps) is also the industries fastest.
Arbitrary Waveform Generation (AWG)
When it comes to signal generation an Arbitrary Waveform Generator (AWG) is the all-in-one device suitable for every purpose in Telecommunication, Optics, Medicine, Radar, Physics or even Quantum Computing.
Brochures
Application and Tutorial Notes
Application Notes
Tutorial Notes
Tutorial Note 3 – Broadband Communication Signals
Transmission bandwidth, PRBS signals, correct multiplexing and demultiplexing, eye diagrams, Q-factor, jitter, bit error rate, error analyzers.
Tutorial Note 4 – Basics of Optical Communication
Background information about optical detection, polarisation, chirp, dispersion and non-linear effects.
Tutorial Note 5 – Modulation Schemes
EA and LiNb modulators, ASK, BPSK and DPSK modulation.
blank
What makes a SHF BPG connected to a SHF DAC become a high baud rate AWG?
Because SHF 12104 A and SHF 12105 A Bit Pattern Generators have
multiple high data rate channels,
individually programmable channels and
channel synchronization
one can basically program any required output waveform from a DAC just by programming the input bits into the DAC accordingly.
Our new complementary software package, the SHF Control Center, assists the user to create the user patterns for any signal trace. With our SHF multi-channel BPG the software just needs to know which BPG output is connected to which DAC input and the arbitrary signal can be created.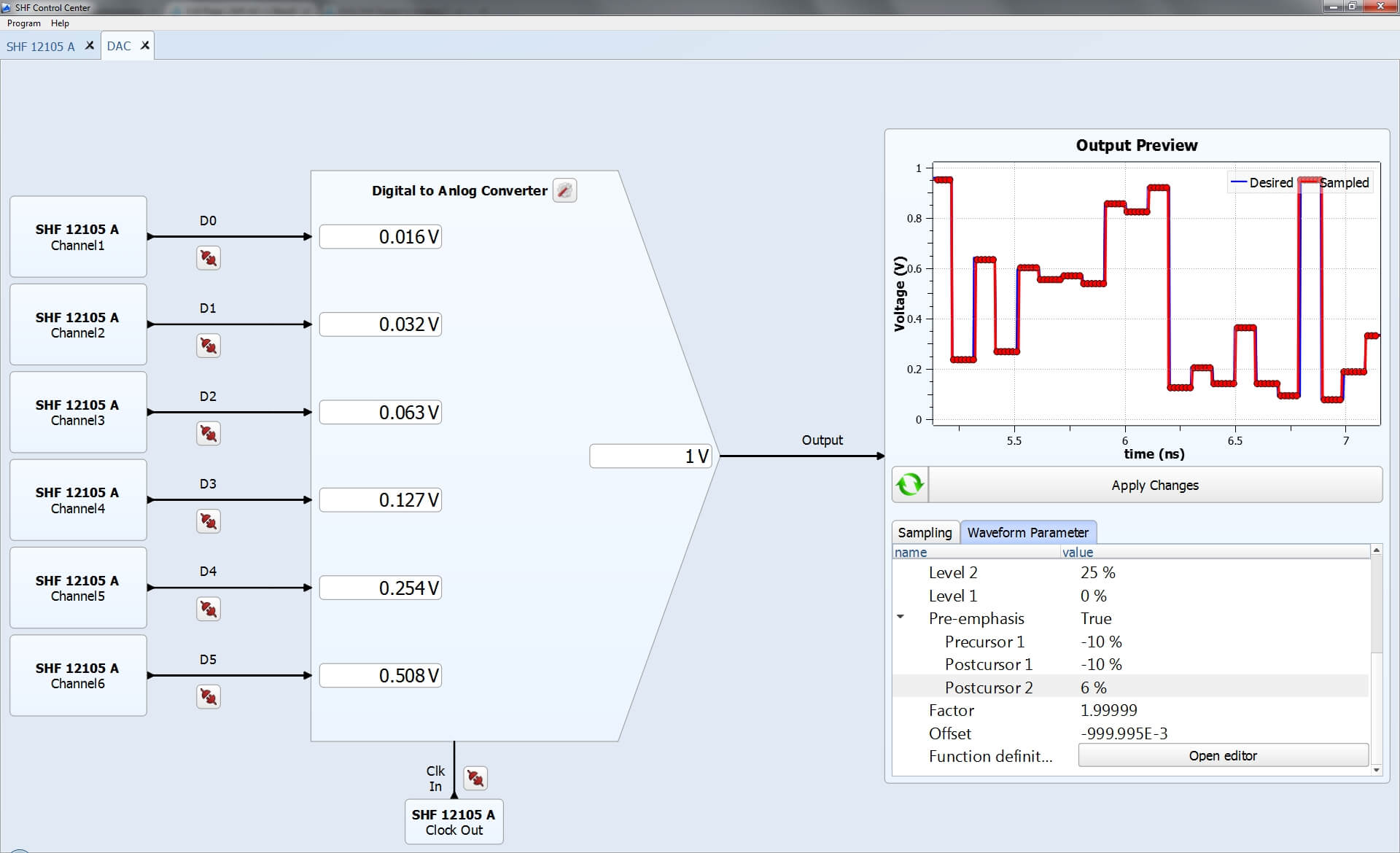 Above screenshot shows how the GUI is used to configure the multi-channel BPG SHF 12105A with a 6-bit DAC to form a PAM4 waveform with non-equal amplitude eye opening and pre-emphasis for device testing requiring some degree of non-linearity compensation.
How can I create an arbitrary waveform?
There are various options to create the waveform:
One more click and the DAC will produce the desired waveform.
What are the benefits of a BPG-based AWG over conventional AWG?
Generally, a Bit Pattern Generator (BPG) has some advantages over an Arbitrary Waveform Generator (AWG):
A. Baud Rate = Sample Rate
BPGs operate very broadband by tuning the input clock frequencies (SHF BPGs work from approximately 5 Gbps up to 64 Gbps). The sample rate of an AWG can be restricted to a narrow band. This becomes particularly critical when data signals (be it NRZ or PAM) are to be produced where the sample rate of the AWG is not an integer multiple of the baud rate of the data signal.
With data signal created by a BPG + DAC architecture, the baud rate and the sample rate can always be identical (1 Sample per Baud), thus no software tricks have to be applied to compensate for fractional sample to baud rate relations.
B. Logical Pattern Generation (No Memory Used)
A BPG can produce some pattern types logically, i.e. not loaded from the memory (most famously, creating NRZ PRBS patterns). This way, the patterns can be very long (up to at least 231-1) and there is no up-load time (which can be quite long for long user defined patterns) as in the case of a conventional AWG relying on user-defined patterns.
In first place one may think that these advantages do only apply to pure BPG and not to an AWG based on a BPG/DAC architecture. For most microwave signals this is correct, however, for some data signals the coding can be done in the BPG hardware, thus the user memory is not used and above advantages do still apply for the signals from the DAC. Some examples are:
1.) Standard PAM
Just by applying standard PRBS signals to the DAC the DAC will create PAM4, PAM8 etc.
2.) Symmetrical unequal PAM4
In case the voltage contribution of the LSB input is exactly half of the voltage contribution of the MSB, the PAM4 signal is fully symmetric, i.e. all three eye heights are the same. This would be the standard setting of the DAC.
If the voltage contribution of the input bits deviates from half, the eye heights won't be equal anymore. However, it will always remain symmetric. This means, in case the inner eye gets bigger the two outer eyes will be smaller but the two outer eyes will always have the same height. In the SHF DAC GUI, this is defined by the symmetry control.
3.) Non-equal amplitude PAM4
With "non-equal amplitude", all three eye heights are different. For example, the lowest PAM eye is small, the middle is average and the upper is big (or vice versa). This is quite useful in case the DUT has a non-linear transfer characteristic (e.g. an EA modulator).
With a SHF BPG and a SHF DAC with at least 3 Bits (the more bits you use the finer you can set your different eye heights), the individual level spacing can be set just by a few SHF Control Center clicks as shown below for the case of using a 3-bit DAC.

PAM4 Amplitude Setting
Please note, for this special application, you can leave the BPG in PRBS mode and let the BPG do the recalculation of the patterns in hardware. Thus there are no such AWG drawbacks such as pattern length restriction due to memory size limit, and  waiting time when patterns are uploaded.  Our architecture can do non-equal amplitude PAM eyes with pattern length up to 231-1.
4.) Pre-Emphasis
A pre-emphasis tap can be set up by generating the same data pattern twice with one being inverted and delayed (or advanced) by one bit before the patterns are added together. Delaying and inverting is a simple task for the multi-channel BPG while still being in PRBS mode. Adding together is done by the DAC. Even the amount of the pre-emphasis can be adjusted by varying the contribution of this input into the DAC.
In case enough bits are available at the DAC, this concept can be easily extended to multi-level signals and/or more pre-/de-emphasis taps.
Again, all this is done by simply generating standard PRBS patterns with the BPG and therefore "the AWG drawbacks" do not apply.
blank
SHF Control Center (SCC)
All parts in our current product range of RF & Microwave Modules and Instruments which are controlled by a software running on an external PC require the SCC to operate (e.g. the SHF 78124 A synthesizer). Some obsolete parts of older vintage, however, may require the BCC.
This SHF software is free of charge for the lifetime of your device. The most current version can be downloaded here.
BERT Control Center (BCC)
The BCC may be required to operate some older vintage obsolete parts of the RF & Microwave Modules and Instruments section.