RF & Microwave
Passive Components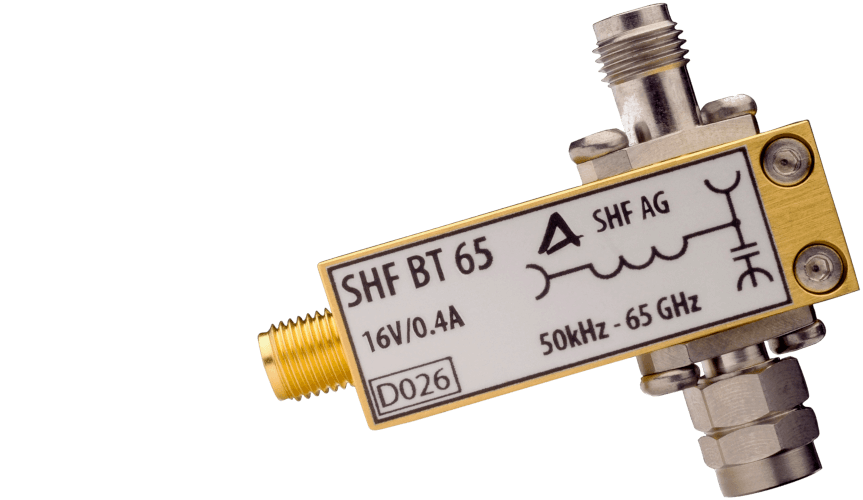 Choose a selection or scroll down to view all
Linear Equalization Filters
Support – RF Passive Components
blank
General Info
Up to 110 GHz
SHF's microwave components are broadband devices suitable up to 110 GHz.
Our SHF BIAS TEES are well known but perhaps a slight variation does suit your application even better. DIPLEXERS are bias tees with a certain bandwidth in the low frequency path to combine or separate high frequency and low frequency signals into or out of a single line. DC-FEEDERS are bias tees without the capacitor. Therefore, it provides slightly lower insertion loss in case it is connected to an AC-coupled device which already has a capacitor on its input. Based on our air line construction, these passive components provide resonance-free transmission over the entire operating range.
The SHF ATT110 A precision fixed ATTENUATORS, as well as the SHF TRM110 A TERMINATIONS (50 Ohm loads) are available in a wide variety of different connector combinations.
Our broadband resistive POWER DIVIDERS split a signal into two equal parts, or combine two signals. They have a characteristic impedance of 50 ohms when the output ports are terminated with 50 ohm loads.
A typical application for a broadband LINEAR EQUALIZATION FILTER is to compensate for distortion caused by the lack of bandwidth of a DUT (e.g. a RF cable assembly).
Brochures
Application and Tutorial Notes