Video-Interview about equalization of PAM4 Signals
Published: Oct. 24, 2019
This interview was taken by "ECOC TV" at our booth at the European Conference on Optical Communication in Dublin.
Please accept YouTube cookies to play this video. By accepting you will be accessing content from YouTube, a service provided by an external third party.
If you accept this notice, your choice will be saved and the page will refresh.
In this video you see:
The generation of PAM4 signals by our SHF 12105 A Bit Pattern Generator (BPG) with our SHF 616 B PAM4 Multiplexer (PAM-MUX). These devices are able to generate PAM Signals up to 128 GBaud (256 Gbps).
Degradation of this signal @ 60 GBaud by 3 meters of coaxial cable.
Equalization of this impaired signal by our analog FIR filter SHF C681 A.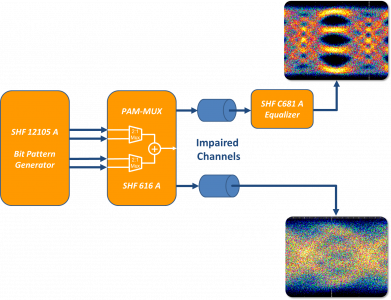 Setup @ ECOC 2019