We would be very happy to welcome you again at our OFC booth. The OFC 2016 is in the Anaheim Convention Center from March 22 to 24 and we are at booth number 3112.
At OFC we will have a live experiment showing:
PAM-4 BER analysis up to 32 GBaud with the SHF 11104 A error analyzer (EA),
The SHF 12104 A multi-channel bit pattern generator (BPG) together with the SHF 614 A 6-Bit digital to analog converter (DAC) to form a 60 GSymbols/s arbitrary waveform generator. In particular we are showing various types of 60 GBaud PAM signals (PAM-4, PAM-8, Odd PAM (e.g. PAM-5), Unequal PAM (different level spacing), PAM w. Pre-Emphasis,…).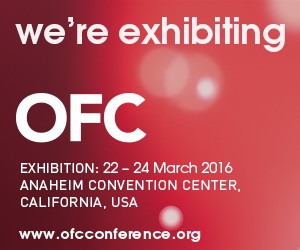 Our OFC participation is partially financed by the European Regional Development Fund (German: Europäischer Fonds für regionale Entwicklung, EFRE) and the 'go international' program of the senate department for economics, technology and research from the federal state of Berlin.